Airbus launched the sixth Fly Your Ideas competition in June 2018 and the next generation of innovators can now submit their proposals tackling one of the six challenges set out by Airbus (Electrification, Data Services, Cyber Security, Internet of Things, Artificial Intelligence and Mixed Reality). Students need to fill an online questionnaire about their idea, highlighting the technology behind it, market analysis, originality, added value and potential obstacles. In order to visualize the idea, the teams must also submit a simple sketch.
The Round 1 submission phase ends on 16 November 2018 and is followed by an online assessment where a team of Airbus specialists recruited from across the business will review and evaluate all submitted ideas. The live final of Fly Your Ideas will be held in 2019, where students will have the opportunity to showcase their ideas to an audience of industry experts.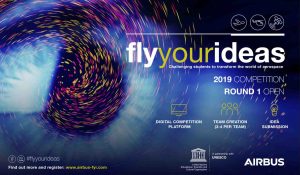 Fly Your Ideas is a global competition for universities and students from all over the world to innovate for the future of aerospace, including Commercial, Defence & Space and Helicopters. Airbus is seeking ideas that could change aerospace in the decades to come and create a safer, cleaner and better-connected world. The competition is an opportunity for students to build valuable employment skills including teamwork, project management and presentation skills and to apply their classroom learning to real-world challenges. As well as joining Airbus on site to further develop their ideas, up to six finalist teams will compete to share a prize fund of € 45,000 and the chance to take their idea forward within the industry.
Since the competition launched in 2008, over 20,000 students from more than 650 universities in over 100 countries have been involved. Since 2012, the competition has been supported by the United Nations Educational, Scientific and Cultural Organization (UNESCO). Audrey Azoulay, Director-General of UNESCO underlines the value of this partnership. "Fly Your Ideas is an inspirational endeavour for students around the world and UNESCO is proud to be a part of this initiative. The new challenges will allow students to think outside the box and come up with sustainable solutions for global problems beyond aerospace – exactly what the world needs from our future generations!"
With over 2,000 already registered, students can now access to the purpose-built digital competition platform under https://competition.airbus-fyi.com/login in order to upload their idea in Round 1 of the competition.