Global consulting firm IBA predicted 908 Firm/MoU orders prior to the show and looking at the headline numbers FAS18 managed to get a total of 996 Firm/MoU orders being announced (adjusted for ones already previously announced), only nine less than last year at Paris. A strong push on LoI's (222) and options pushed the total number to 1,364, a number that hasn't been surpassed since the Paris 2013 show. As the IBA.iQ chart below indicates, the trend of oil price and airshow orders broadly continues, however the mix within the different sectors is disordered.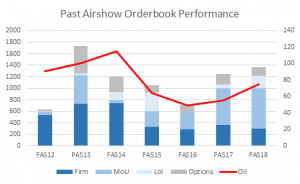 According to Dr Stuart Hatcher, Chief Operating Officer, one of the first visible changes that IBA continues to see is that the number of actual firm orders only, continues to remain very low. "This has been a constant trend over the previous four years, whilst commitments continue to grow. It may not be surprising when we consider the overall backlog has been steadily growing and we had tipped 15,600 for firm orders back at the start of June. Book-to-bill ratios have been so high in general that orders have generally been surpassing deliveries on average by 1,126 units since 2012".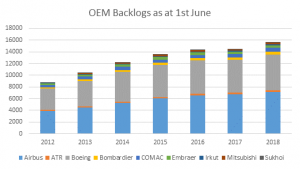 Dr Hatcher continues "This mid-term correlation to oil seems uncanny, but we must avoid falling into the trap of a potential coincidental relationship. Low oil generally means better profits for the airlines. This in turn has tended to push airlines into buying aircraft, but ultimately traffic demand is what drives airlines to order in a sustained way. Of course, replacement technology is fuelled by efficiency but consumer demand must be there."
As IBA explores this further it notes that another key aspect of the airshows every year is the release of the OEM forecasts. Looking back 15-20 years, these have been fairly conservative on narrowbody market growth. Unsurprisingly this year more conservative estimates were announced on the annual traffic growth rate for the industry which still does not appear to be coming down from the +6% levels have been witnessed since early 2013.
Mike Yeomans, Head of Valuations at IBA, says "Both Boeing and Airbus have gone for a level ~2% lower than the current rate at 4.7% and 4.4% respectively, we appreciate that this factors in the potential for at least two recession periods. To account for the higher Boeing forecast, there is a larger expectation on the delivery forecast with 42,730 aircraft, whilst Airbus predicts 37,390. The strength of the economy, the propensity to fly, increasing private consumption, replacement need in the face of rising fuel costs, burgeoning middle classes, and globalisation all considered to be the driving forces."
In terms of orders Boeing surpassed Airbus by a narrow margin. The result for Boeing would have been higher if IBA counted the orders already previously announced – such as jet Airways' 75 or Jackson Square's 30. The orderbook for Boeing was filled with MAX commitments with a few 787s and 777-300ERs as predicted. A welcome appearance of freighter orders shows that Boeing remains the leader in the widebody freighter sector. From Airbus, A320neos, A330neos and A350s (including some 1000s) comprised the airshow order book and around 30% of the narrowbody sector was taken by the A321neo, whilst the MAX 10 only garnered <19% of the MAX backlog from the identifiable ones.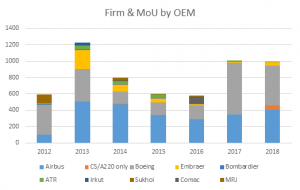 Mike Yeomans found the lessors were keeping purse strings tight. "In contrast to last year only 23.9% of the Firm/MoU order book was taken by lessors compared to the 47.2% last year and half of the long-term rolling average. This did surprise IBA somewhat given that the sale leaseback market margins remain so tight, and we were expecting some across-the-board top-up for most of the largest lessors. Despite this result, the lessor backlog does continue to hold well at ~3,000 units still, which is close to 19% of the overall backlog. ALC led the way with 78 Firm/MoUs for MAXs and 787s, there were two orders from Goshawk for 20 Airbus A320neos and 20 Boeing 737 MAXs, and similarly a 20 Airbus A320 neo order for Macquarie and a 20 Boeing 737 MAX order for ACG."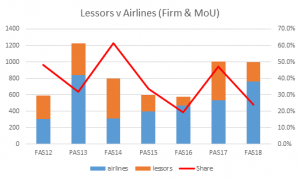 In terms of order spread amongst the sectors, there weren't many surprises this year with narrowbodies taking 814 firm/MoU orders (81.7%) at the show, and widebodies getting a small uptick at 134 (13.5%).
When IBA looks specifically at narrowbody order performance at FAS18 the neos and MAXs dominate with 330 and 424 respectively, with the added bonus of the newly branded A220-300.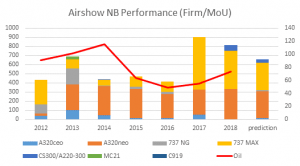 On the widebody side, a surprise appearance this year was a small order for some 747Fs signalling the growth in the heavy freight market. The 777 freighter orders highlight that too. "The widebody is understandably tracking closer to oil price as fuel economics play a key role in this sector" says Dr Hatcher. "But the market is still reticent to make too many inroads into the larger widebody space just yet. It was encouraging to see a few A350-1000s enter the fray early on in Farnborough week. It is five years since the A380 was ordered at one of the summer airshows. This was a 20 aircraft MoU by Doric which was taken on by Amedeo. However, even as traffic increases, and slot and pilot shortages play their part in driving the need for larger and larger aircraft, the market still shies away from the largest passenger plane."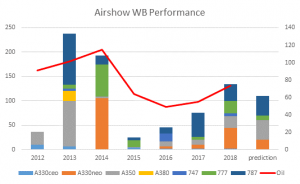 According to IBA the regional market has taken a positive shift with a total of 217 regional aircraft commitments received, comprising Firm orders, MoUs and LoIs. If Options are included, this number rises to 342 aircraft. Of these total commitments, the vast majority are for regional jets, which accounted for around 17% of the total Firm orders, MoUs and LoIs received during the four days of the FAS.
New regional aircraft demand has been at a low point over the past three years and a number of factors have contributed to this says Mike Yeomans. "As oil costs have fallen, so has demand for turboprops. Over-ordering by lessors, over-production by OEMs, secondary market oversupply, low fuel and airline failures have all driven weakness in the turboprop market and we have seen few orders for aircraft in this market segment since 2015. However ATR released its market forecast earlier in July, indicating that a further 3,000 turboprop deliveries will occur over the next 20 years, 80% of which will be serviced by the 61-80 seat category aircraft."
IBA considers there has been pent-up demand for regional aircraft, particularly over the past 12 months, as potential customers have waited to see how Airbus and the CSeries, and a Boeing/Embraer connection would play out. The recent announcement that Boeing will take control of Embraer's commercial aircraft division has been met with a wave of demand for new Embraer aircraft at FAS 2018. The following IBA.iQ chart shows the recent trend in regional aircraft orders against oil price which has been adjusted to include LoIs.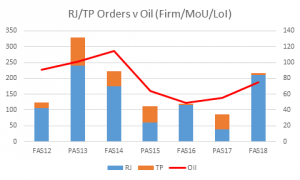 Of the few turboprop orders placed, MoUs were signed for seven aircraft by two customers, Hokkaido Air System (Japan) and EasyFly (Columbia). A number of commitments were made on the previous Friday (13th July). These totalled 10 aircraft, all of which were ATRs. No Bombardier DHC8 turboprop aircraft were ordered during or around the Airshow. None of these are recorded as firm orders.
"In contrast, regional Jets accounted for 41 Firm Orders (+ 10 options) and 169 LoIs (+ 114 options) at the show this year. No MoUs were signed for regional jet aircraft" perceives Dr Hatcher.
"Leading up to the show much of the news focused on the regional market. In sharp succession we have seen Airbus enter the regional aircraft space with its acquisition of a majority share in what was the Bombardier CSeries programme. Embraer has now announced a tie-up which would give Boeing control over its commercial aircraft business. Embraer's commercial aircraft programmes will be rolled into a joint venture, in which Boeing would have an 80% stake. The deal is expected to close late next year, subsequent to the necessary regulatory approvals.
"For the CSeries, the obvious change has been the re-branding of the CS100 and CS300 to the Airbus A220‑100 and Airbus A220-300 respectively. This was announced prior to FAS18, alongside a new commitment from US LCC, JetBlue, for 60 units of the larger A220-300 model. However IBA only considers the A220-100 as a regional jet."
Bombardier retains a foothold in the regional space and a firm order was received from Uganda Airlines for four CRJ900s. No examples of the smaller Airbus A220-100 aircraft were ordered during Farnborough.
IBA.iQ records that Embraer took the lion's share of commitments at FAS18. Firm Orders totalled 37 aircraft. When LoIs are included, Embraer's commitments rise to 176 aircraft. Embraer took options totalling 124 aircraft. "The distribution of Embraer's FAS orders covers a range of products and features a number of airline and lessor customers" comments Mike Yeomans. "Due to US major airline pilot scope clauses, with which the new E175 E2 model is not compatible, the E175 E1 received some strong demand. United Airlines, Republic Airlines, Mauritania Airlines, NAC, Helvetic Airways, Wataniya and Azul all placed orders." 
Although Embraer dominated the regional market, IBA.iQ records that an LoI was signed by Peruvian Airlines for 10 Sukhoi SuperJet SSJ100-95 aircraft. Meanwhile, Chinese carrier Urumqi Airlines signed an LoI with Chinese OEM, COMAC, for 20 ARJ-21 regional aircraft.
So, what do the regional OEM's backlogs look like?
IBA's analysis indicates that Embraer finishes FAS18 in a strong position with a current backlog of almost 500 aircraft to deliver across all of its aircraft models. COMAC has the second largest current backlog, although its order book is concentrated almost exclusively in its home market, China.  Despite a relatively small number of commitments compared to previous years, ATR maintains a healthy backlog of over 250 aircraft, or around three years' production at the current rate. Mitsubishi Aircraft Corporation (MITAC) showcased its MRJ 90 regional aircraft at the FAS18 and despite some delays to the programme, the Japanese OEM still holds the fourth largest regional aircraft backlog.
In summary of the show itself, whilst some analysts were indicating that this would be ~500 firm order/MoU year, IBA correctly identified that this would be a strong show with close estimations of widebody and narrowbody performance – and the year has a long way to go. Based on trends in recent years, December will also likely be a strong month for orders as both large OEMs hunt for 2018 sales. "This is especially important if other aircraft types are to be included in the numbers, as we have seen with the CSeries rebrand" concludes Dr Hatcher. "Once the summer is over, I expect to see further movement on the A220 in particular with the weight of Airbus behind it, but the focus is likely to shift to the middle-market if the NMA discussion takes the next step."