Summer travel through Ontario International Airport (ONT) continued at a robust pace in August, the sixth consecutive month in which the Southern California gateway surpassed pre-pandemic passenger volumes, airport officials announced.
More than 511,000 airline passengers moved through ONT terminals last month – the fourth consecutive month in which volumes exceeded 500,000. The August totals were 1.4% higher than August 2019 and 9.3% more than August last year. The number of domestic and international travelers totaled more than 497,000 and 14,000, respectively. Domestic passenger volume increased by 3.8% compared with August 2019 and 9.5% over the same month last year.
From January through August, ONT welcomed 3.6 million passengers, 2.8% more than the same period in 2019 and 41.7% above last year.
"Ontario International continues to rank among the fastest-recovering airports in the United States, serving one of the most dynamic population and economic centers anywhere. Nearly 10 million Southern Californians live or work closer to ONT than any other airport, and more and more of them are recognizing Ontario's value as a Southern California aviation gateway," said Alan D. Wapner, President of the Ontario International Airport Authority (OIAA) Board of Commissioners.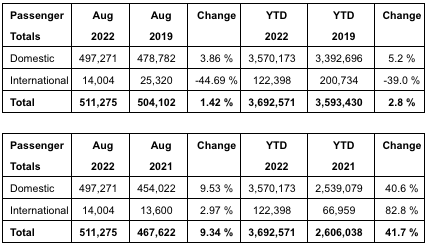 "Airlines and air travelers are showing their confidence in our airport and our ability to deliver a superior customer service experience," said OIAA Chief Executive Officer Atif Elkadi. "It is a credit to our airport staff, airline partners, transportation security officials, concession workers and many others who work so hard to serve our customers and visitors well."
Air cargo shipments, meanwhile, also showed strong growth in August at 71,700 tons, 6.85% more than August 2019 and 5% over August a year ago. Over the first eight months of the year, the volume of freight and mail combined totaled more than 548,000 tons, 10% more than the same period three years ago. The year-to-date total was 4.4% lower than last year.

"Ontario International continues to be Southern California's hub for commercial freight movement which speaks well of our modern facilities and intention to drive regional economic activity," Wapner said.