Controladora Vuela Compañía de Aviación, S.A.B. de C.V. (NYSE: VLRS and BMV: VOLAR) ("Volaris" or "The Company"), the ultra-low-cost airline serving Mexico, the United States, Central, and South America, reports its July 2022 preliminary traffic results.
In July 2022, Volaris' capacity (measured in ASMs) increased 28.8% compared to July 2021, while demand (measured in RPMs) increased 21.9% compared to the same period; the result was a load factor of 84.7% (-4.8 pp YoY). Volaris transported 2.8 million passengers during the month, a 22.2% increase compared to July 2021. Passenger demand (RPMs) in the domestic Mexican and international markets increased 22.8% and 19.6%, respectively, compared to July 2021. Year-to-date, Volaris' demand (measured in RPMs) increased 32.2% YoY, with a load factor expansion of 0.1 pp, to 84.1%.
Commenting on July 2022 traffic figures, Volaris' President and CEO Enrique Beltranena said: "We continue to be disciplined about adding capacity to match our passenger demand. The Company continues to modify its network to rationalize growth in an environment reflective of high jet fuel prices and to reallocate capacity as appropriate to more profitable routes".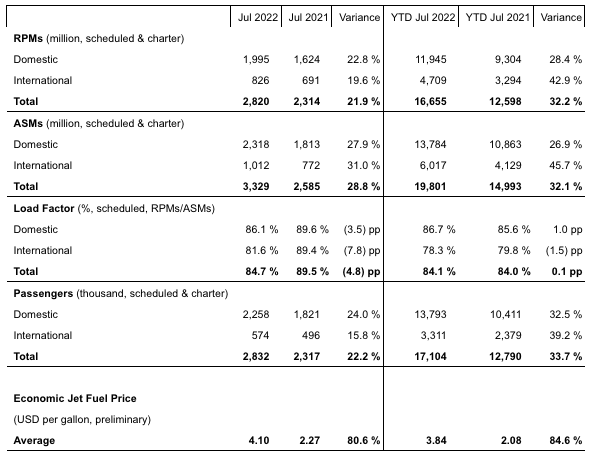 The information included in this report has not been audited, and it does not provide information on the company's future performance. Volaris' future performance depends on many factors. It cannot be inferred that any period's performance or its comparison year over year will indicate a similar performance in the future.