SkyTeam cumple 15 años y fue galardonada con el premio "Airline Alliance of the Year 2015" en los premios Air Transport News.
El premio es sin duda un reconocimiento a los 15 años de existencia de la red orientada hacia la excelencia del servicio al cliente. Los ganadores son elegidos por un jurado de expertos de la industria aeronáutica entre los finalistas seleccionados cada año por los lectores de la reconocida revista Air Transport News.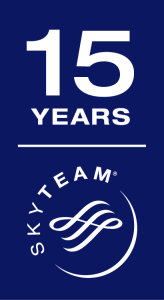 SkyTeam fue creada en el 2000 por Air France, Aeroméxico, Delta y Korean. En 2015, está compuesta por 20 miembros que ofrecen acceso a una red mundial de más de 16.323 vuelos diarios hacia 1052 destinos en 177 países: Air France, KLM, Aeroflot, Aerolíneas Argentinas, Aeroméxico, Air Europa, Alitalia, China Airlines, China Eastern, China Southern Airlines, CSA, Delta, Garuda Indonesia, Kenya Airways, Korean, MEA, Saudia, Tarom, Vietnam Airlines y Xiamen Airlines.