Seat densification is an industry trend and it's clear why. It's an affordable way to increase total seat capacity while enabling both lower cost-per-mile and cost-per-seat on each flight. At the same time, it allows to increase revenue opportunities per flight and overall route profitability. Furthermore, if it coincides with new and lower weight slimline seats that typically weight 2/3 less than previous seat weight generation, the greatest bottom line impact can be achieved.
Moreover, adding slimline seats means aircraft weight can be reduced as well as aircraft fuel burn thus reducing airline"™ top cost – Fuel expenses. However, packing more seats on an aircraft leaves less legroom for passengers. Seat densification is a strategic tool that allows airlines to further segment economy class cabins and offer multi fare products (even lowest fare ones), improve route margins and minimize the market share loss to Low and Ultra Low-Cost competitors or even penetrate other modes of transportation.
In 2017, United Airlines short to medium haul fleet averages 10 extra seats per aircraft (B737-800 and B737-900 with 12 extra seats each, A319 with 8 and well as B737-700) while its widebody fleet average 37 extra seats (B767-300 with 31, B777-200 with 61 and another aircraft type with 19). American carrier Sun Country Airlines revised strategy includes cutting unit costs in a variety of ways and putting more seats on airplanes, which will provide more revenue opportunity while being able to compete in a more leveled field with its ancillary fee focused competitors Frontier, Spirit and Allegiant Air. In addition and based on a recent rebranding development at Chilean Sky Airline, the airline plans to pack 21% more seats on its A320neos with seat count going up to 186.
Finally, British Airways will add an extra 52 seats to its Boeing 777s at Gatwick from 2018 to its long-haul economy passenger cabin. That means moving up from nine economy seats abreast in its B777 fleet at present to 10 seats. Moreover, it will allow British Airways to enjoy lower cost per seat than Norwegian Air B787 long-haul services. And the next planned move for BA, will be to further cabin densify aircraft at their major hubs including Heathrow.
Therefore, it is clear why network and non-network airlines are executing said strategy as it provides plenty of benefits including capitalizing and responding to market opportunities, lowering unit costs, maximizing profits/margins, charging lower prices, providing a product to most cost-conscious passengers, optimizing market share, enhancing fuel efficiency, stimulating demand and tapping new sources of income through a fine tuned ancillary revenue strategy.
This topic and many other related to revenue optimization, cost reduction, airline umbrella multi brand offering and positioning will be discussed at the upcoming IATA leading practices and cost reduction strategies (classroom format, 5 days) course to be held in Lima, Peru October 2nd to 6th, 2017. Instructor: René Armas Maes.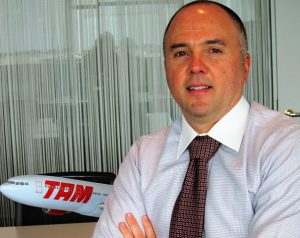 About the author: René Armas Maes began his career as a Senior Analyst at Simat, Helliesen & Eichner based in New York City where he consulted global airlines, regional aviation and corporate aviation customers. René is an international consultant and IATA external instructor with 15 years of experience in revenue and EBITDA growth, strategic planning, new product development, cost containment and business restructuring. Today, he manages Jet Link International LLC an aviation consultancy firm and leads a number of professional consultants on international engagements.